Below you will see the two options for outside dining available at Kentmorr Restaurant at this time. We are able to accommodate parties up to 6 people per table. All tables have been properly distanced to ensure parties can maintain 6 ft apart during their time at the restaurant.
When making a reservation, you may indicate your preference in seating areas, but we cannot guarantee a specific spot due to limited tables in our dining areas. 
Patio Dining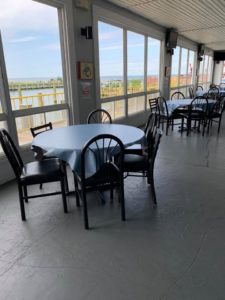 Our Patio is an open aired dining space that features seating for up to 6 people per table. There are ceiling fans on our patio for additional air flow.
Picnic Tables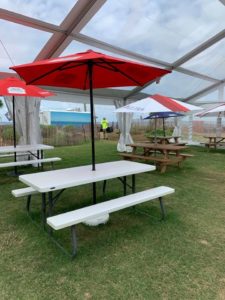 All of our picnic tables have an umbrella to allow for additional shade. Some picnic tables are under the tent while others are on the grass or deck areas.
Additional Information
Restaurant reservations are separate from reservations for Dirty Dave's Tiki Bar and Beach Area.