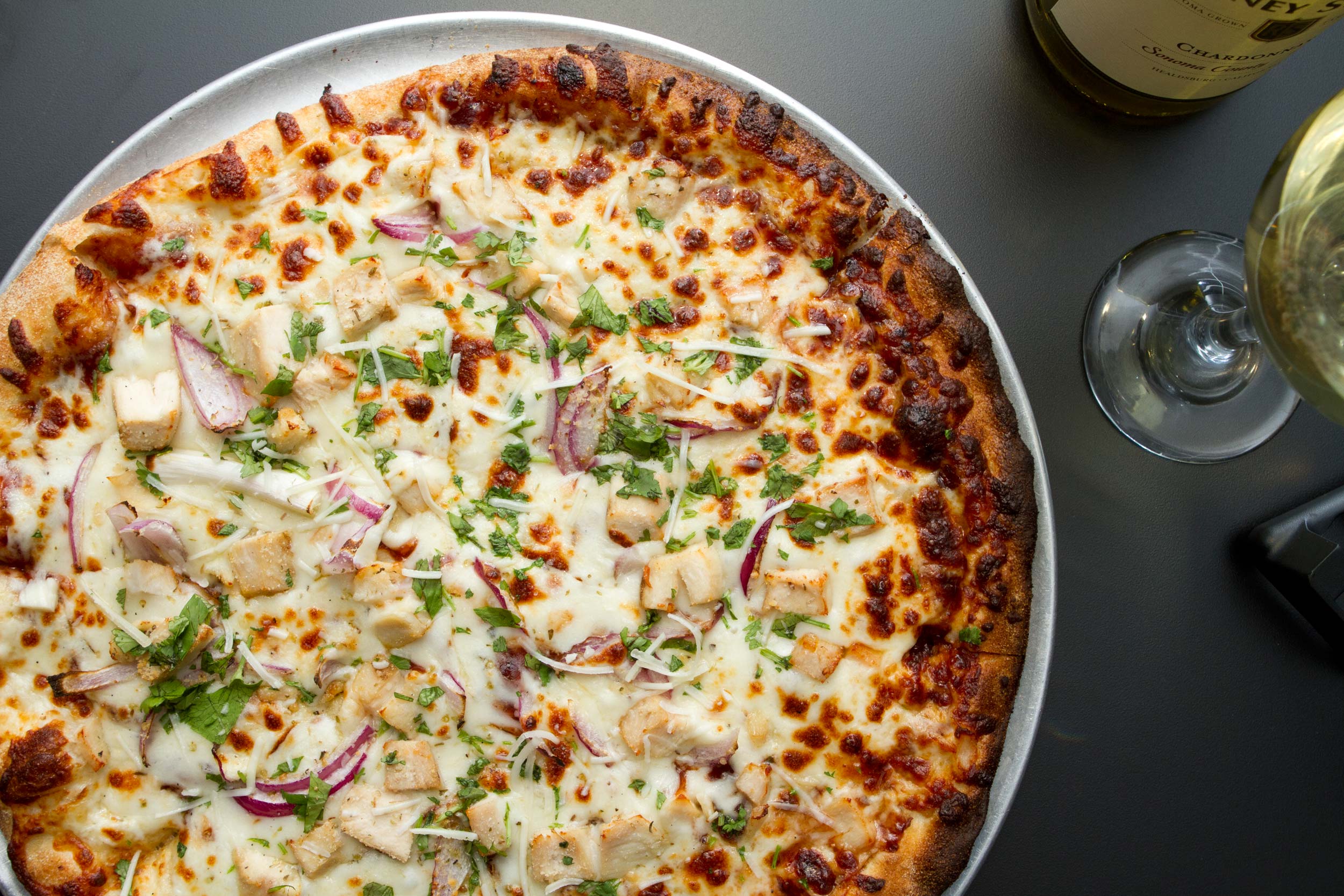 Our pizzas are made in traditional New York style. We make a hi gluten/seminola dough seasoned only with salt and olive oil. We let it rest at room temperature and then develop character in the fridge overnight. It is cooked at a high temperature in a Marsal brick oven for a crisp, chewy crust. Our sauce is made with the finest California tomato, Alta Cucina, fresh basil, garlic and salt. A perfect pie is balanced, keep in mind when ordering toppings.
Pizza Margherita $9.99
Thin crust, fresh Mozzarella, basil, olive oil, tomato sauce, Romano
New York Pizza $9.99
Thin crust, shredded Mozzarella, tomato sauce, oregano, Romano
New York White Pizza $10.99
Fresh and shredded Mozzarella, Ricotta cream, garlic, olive oil, oregano
Kentmorr's Famous Crab Pie $15.99
Crab, fresh Mozzarella, cream sauce, fresh garlic, chopped tomato, Cheddar
Meatball Pizza $10.99
New York Style
Sriracha Chicken Pizza $11.99
Ranch cream, bacon, Mozzarella, garlic, hot Sriracha sauce
Dirty Dave's Favorite Pizza $16.99
Brick oven pizza with Shrimp, Crab meat, prosciutto, cream sauce and red pepper cream
BBQ Chicken $11.99
With Sweet Baby Ray's sauce, cilantro and red onion
3 Meats $12.99
Meatballs, Sausage & Pepperoni
Toppings
$1.00 Toppings: Mushrooms, Caramelized Onions, Shredded Cheddar, Bell Pepper & Red Onion.
$1.50 Toppings: Applewood Bacon, Roasted Red Pepper, Sweet Italian Sausage, Broccoli
$2.00 Toppings: Rosa Grande Pepperoni, Anchovy Filet, Prosciutto
Other Toppings: Fresh Crab – 3oz $7, Shrimp $4, Fresh Basil (NC), Fresh Garlic (NC)