Dirty's Dave Tiki Bar now features limited Beach Spots!
Beach reservations for the weekends (Saturdays, Sundays, and Holiday Fridays & Mondays) will be available online. There is a reservation fee that must be paid to confirm your spot on the day you wish to visit the beach. These spots are not a part of Kentmorr Restaurant's outside dining area and therefore they do not have servers that comes to your spot! Dirty Dave's Tiki Bar has tables that will be available on a first-come, first-serve basis every day of the week. Beach spots will be available first-come, first-serve on week days.
Online beach reservations can be made at https://dirtydaves.simplybook.me/v2/. You will need to select the spot you are interested in, fill out your information, and pay for the reservation to confirm your beach spot. The reservation fee includes admission for 6 people (the most that can fit at a beach spot, which includes children). Waterfront spots are $40, Water view spots with a Palapa are $35, and Water view spots are $30.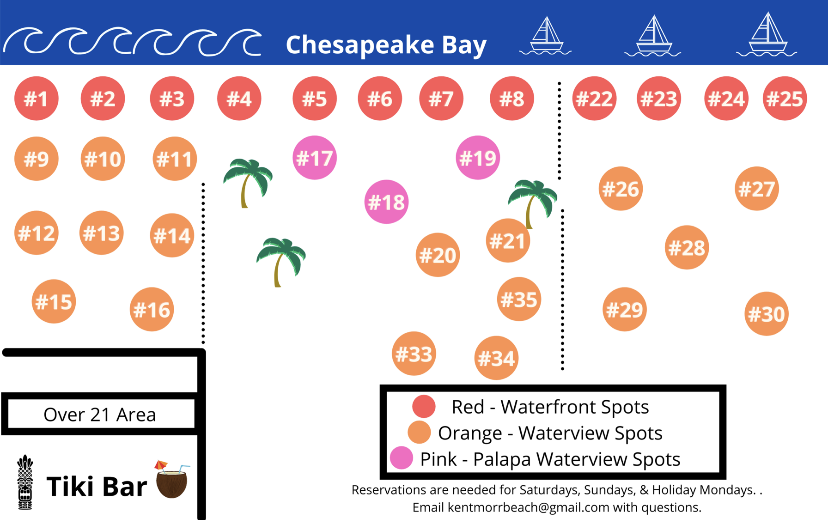 In our attempt to best serve our patrons and protect the safety of all on our property, we have established spots on the beach that give your party enough room to enjoy the beach, while staying 6ft away from another group. These spots feature a great view of the water, a chance to get your toes in the sand, and allow us to better maintain protocols established in the Reopening of Maryland Plan.
What does that mean for you? When you arrive to the beach area and are directed to a specific spot, that becomes your area for your time on the beach. You do not have to wear a mask when you are in that area. That designated spot is where you and your party (includes children) must remain unless going up to the bar to grab food/drinks, going to the bathroom, or going to swim in the bay. We know this will be an adjustment from being able to freely run around the beach, but it is our best way of being able to have a safe and enjoyable time for all.
On the Weekends- Reservations for Kentmorr Beach will be available online starting Monday April 5 for the 2021 summer. The reservations for Saturdays, Sundays, or Holiday Fridays and Mondays are for 12pm. This allows for you to arrive middle of the day and enjoy the beach for as long as you would like. For your reservation, you may have up to 6 people at the spot you have reserved. The total number of your party includes children.
If we are full with reservations, you are more than welcome to come on a Saturday, Sunday, or Holiday Friday and Monday to see if there is an available spot. But there is no guarantee of getting onto the beach without a reservation.
Sandy Beach Spots!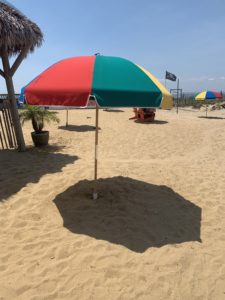 All spots this year will be sandy beach spots! You can bring your own blanket, chairs, or towels to sit on the sand. There is plenty of room for you to play in the sand and catch some rays. Each spot comes with an umbrella and has room for up to 6 people.
Additional Information
+Each spot can have up to 6 people, this includes all children.
+Bathrooms for Beach Patrons are located in the front parking lot of the restaurant at the Comfort Station. Follow the arrows down the dock to reach the front of the building.
+Beach Patrons are not allowed to enter the restaurant unless they are arriving for a restaurant reservation.
+If you plan on going into the restaurant to eat, you will lose your spot on the beach and must take your belongings with you.
+On Weekends, we take reservations online to reserve your beach spot. The reservation fee paid online covers the admission fee for 6 people. Each spot is allowed to have up to 6 people, including children.
+There is a $5/per person facility fee every day for anyone over the age of 10.
+On Holidays, there will be a $10 facility fee per person charge.
+During the week, it is first come, first serve for spots.
+No speakers of any kind are allowed on the beach or in the restaurant.