Dirty's Dave Tiki Bar now features limited Beach Spots!
You can only make reservations for the weekends for these spots by calling us at 410-643-2263 on the Wednesday at 10am leading up to that weekend! These spots are not a part of Kentmorr Restaurant's outside dining area and therefore they do not have servers that comes to your spot!
In our attempt to best serve our patrons and protect the safety of all on our property, we have established spots on the beach that give your party enough room to enjoy the beach, while staying 6ft away from another group. These spots feature a great view of the water, a chance to get your toes in the sand, and allow us to better maintain protocols established in the Reopening of Maryland Plan.
What does that mean for you? When you arrive to the beach area and are directed to a specific spot, that becomes your area for your time on the beach. You do not have to wear a mask when you are in that area. That designated spot is where you and your party (includes children) must remain unless going up to the bar to grab food/drinks, going to the bathroom, or going to swim in the bay. We know this will be an adjustment from being able to freely run around the beach, but it is our best way of being able to have a safe and enjoyable time for all.
On the Weekends- We are accepting reservations on Wednesday after 10am during the week leading up to a Saturday or Sunday. The reservations for Saturday or Sunday are for 12pm. This allows for you to arrive middle of the day and enjoy the beach for as long as you would like. For your reservation, you may have up to 12 people, appropriately spaced at 2 spots on the beach (6 people per spot). The total number of your party includes children.
If we are full with reservations, try coming later in the afternoon/early evening, and we should be able to find a spot for you!
High Top Table!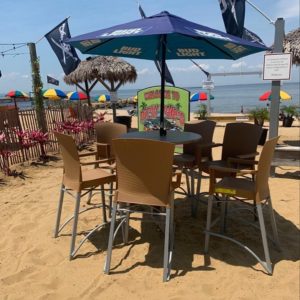 Our first reserved spot is a High Top Table located off to the side of the Tiki Bar. This is a great chance for you to enjoy the beach with the comfort of supported chair. You are still able to go and jump in the water, but there is not much room to be able to play in the sand near the table. These tables have umbrellas or are covered by a shade canopy.
Sandy Beach Spot!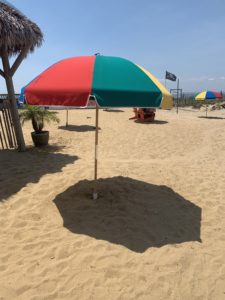 Our second reserved spot is a sandy beach spot. This is a perfect spot for those wanting to bring their own blanket, chairs, or towels to sit on the sand. There is plenty of room for you to play in the sand and catch some rays. Each spot comes with an umbrella.
Adirondack Chairs w/ sand spot!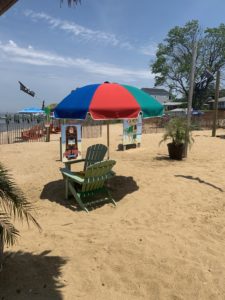 Our final reserved spot is a sandy spot with Adirondack chairs!. This is a mix between the two spots! You will have two wooden chairs as well as some surrounding sand for additional blankets and chairs. We have the most limited number of these spots available. Each spot with the chairs comes with an umbrella.
Additional Information
+Each spot can have up to 6 people, this includes all children.
+Bathrooms for Beach Patrons are located in the front parking lot of the restaurant at the Comfort Station. Follow the arrows down the dock to reach the front of the building.
+Beach Patrons are not allowed to enter the restaurant unless they are arriving for a restaurant reservation.
+If you plan on going into the restaurant to eat, you will lose your spot on the beach and must take your belongings with you.
+On Weekends, we take reservations between 12pm-1pm for these spots. You are able to call Wednesdays at 10am leading up to the weekend you'd like a spot.
+There is a $5/per person facility fee every day for anyone over the age of 10.
+On Holidays, there will be a $10 facility fee per person charge.
+During the week, it is first come, first serve for spots.
+No speakers of any kind are allowed on the beach or in the restaurant.