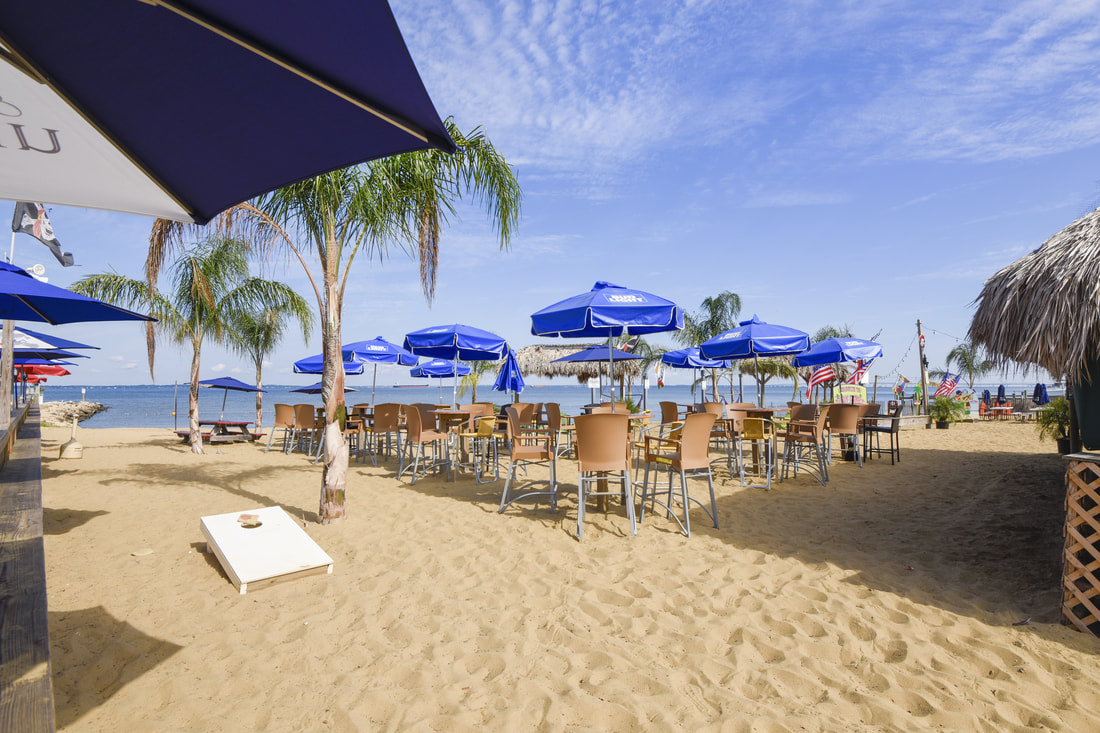 On days without beach reservations, there will be a Facility Fee of $5/per person charged every day to access the beach area. Facility Fees applies to anyone ages 10 and older.
Pay Before Entry. We Accept Visa, MasterCard, AMEX, Discover, and Cash
We reserve the right to charge any day to be able to access Dirty Dave's Tiki Bar and Beach Area.
Beach Rules
+The beach opens at noon.
+There is no refund for weather or other reasons.
+No weapons of any kind allowed on the property.
+No pets allowed in the restaurant, beach, or grass area.
+All food and beverages, including alcohol, snacks and bottled water, must be purchased from the Kentmorr Restaurant. No outside food and beverages are allowed on the property.
+You are not allowed to eat steamed crabs on the beach.
+No glass bottles.
+No personal drinking containers.
+No coolers are allowed.
+No speakers of any kind or other music devices. To enjoy your personal music, please bring a pair of headphones.
+No fires/fireworks allowed on the property.
+No female topless sunbathing.
+No tents, no canopies, no inflatable or small plastic swimming pools.
+No sleeping overnight on the property.
+Use beach at your own risk. No lifeguard on duty.
+Beach closes at sunset.
+No multi-person floatation devices.
+No paddleboards, no kayaks, no sailboats.
+No smoking marijuana on the property, including the parking areas.
+No hookahs allowed on property.
+No picnicking in the parking lots.
+Please use the comfort station to change your clothes.
+Children under 12 must have parent supervision while on the beach.
+At Dirty Dave's Island Tiki Bar and at the Kentmorr Restaurant, all guests must have a valid means of identification for proof of age when purchasing, possessing, and consuming alcoholic beverages.
+Please park in the designated areas. DO NOT BLOCK the county roads, the neighbors' driveways or other parked cars. Cars will be towed at the car owner's expense and/or ticketed by County Sheriff.
+Please respect our family atmosphere. Extreme foul language on this property or cussing at security staff will not be tolerated.
+Kentmorr guests are not allowed on the privately owned boats in the marina.
+Beach guests are to use the bathroom facilities at the comfort station in the front of the restaurant.
+Multiple trips, for whatever reason, to your vehicle will result in security telling you to leave the property.